What To Know About Full Arch Dental Implants
Full mouth reconstruction, or denture implants, may be an important decision to some patients whether they want to take this step and investment in themselves. Reconstruction is a great solution that will transform missing, decayed, or cosmetically damaged teeth into a new and fully functioning, beautiful smile! Any patient that has experienced bone loss over the years, eroded enamel, or have difficulty wearing dentures can now feel relief knowing that we have a permanent option to restore their confidence.
Two successful implant options are: Implant Overdenture and a Hybrid Implant Denture. An Overdenture will snap in and lock into place where the implants will be located. This option can easily be taken off and put back on by the patient when needed. The Hybrid Dentures are fixed in place within your mouth and can only be removed by your general dentist for regular cleanings. Both options have a phenomenal esthetically pleasing result with little down time.
What are some pros and cons of a full denture implant?  
The majority of patients have not seen any cons to this procedure. Hybrid dentures allow you to function like normal teeth while looking and feeling very natural. Since Hybrid Dentures are only removable by a dentist, there is no need to worry about your dentures falling out while eating, using messy adhesives, or what foods you can and cannot enjoy.
Will insurance cover a portion of this procedure?
This will really depend on the individual's insurance plan. Dental insurance will help cover the natural tooth extractions, but it will depend on the carrier whether they cover a portion of the implant placement.
What is the main benefit of receiving a full arch implant?
The main benefit of this process is that you get a full set of new, beautiful teeth with little to no worries after the procedure! This is the Cadillac of restorations!
How often do I need to receive cleanings with dentures?
You can receive cleanings of these implant dentures just as you normally would every 6 months at your general dentist.
To live a more confident life, call our office to set up your personalized consultation to find which implant option would be best for you! We ensure that the needs of the patient come first! 402-327-9400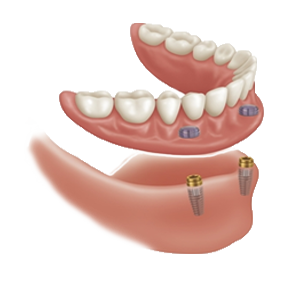 Implant Overdenture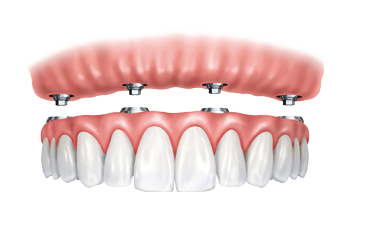 Hybrid Implant Denture