Dental Implants
What are Dental Implants?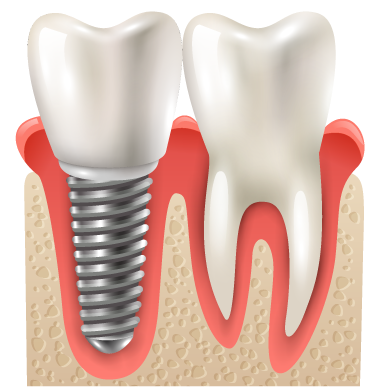 A dental implant, simply put, is a long-term solution for a missing tooth or teeth. The implant is made of titanium metal and acts as a substitute for the root of your natural tooth. Over several months, your jawbone fuses to the implant. The fusing process, called "osseointegration", is the reason implants do not slip or rock like dentures and also why they are the most successful option for patients seeking an option for tooth replacement.
As you can see, the dental implant acts the substitute to a natural tooth's root. Everything but the crown remains below the gum line, enabling a dental implant to look identical to your natural teeth.
---
Anatomy of a Dental Implant
Step 1: Implant

The implant is placed into the jawbone by your oral surgeon.

Step 2: Abutment

The abutment is placed on top of the implant, by your dentist.

Step 3: Crown

The crown is placed on top of the abutment, by your dentist.
---
What to Know
Dental implant surgery is a great option for nearly all ages, with the exception of growing children. Whether you are in need of replacing one tooth to several or all of your teeth, we have a dental implant solution for you. We are confident you will love your dental implant(s) and with proper care, they will last a lifetime.
Patients who have chosen dental implants report an incredibly high quality of life over those who chose fixed bridges, partial dentures or removable dentures. Dental implants eliminate the daily frustrations and discomfort of dentures. They are recommended by dental professionals because, unlike fixed bridges or removable dentures, they do not affect the health of your neighboring teeth nor do they lead to bone loss in the jaw.
UPGRADED COMFORT

With dental implants, there is nothing removable to irritate your gums.

EASIER CARE

No overnight care, no adhesives, no mess. Simply brush and floss like natural teeth.

IMPROVED HEALTH

The health of surrounding teeth remain in tact as they are not affected.

BETTER SPEECH

Removable dentures can be difficult to wear, making speech challenging.

EASIER EATING

Discover how easy eating can be again as implants function just like natural teeth.

BOOSTED SELF-ESTEEM

Once the crown is placed, your implant will look identical to your existing teeth.

---
Cost of Dental Implants
Looking for an affordable solution to dental implants? You have found the right place. Dental implant prices vary based on a number of factors, but we are here to help. Contact our office today or complete the request an estimate form and we will get started on your free estimate. Our office offers a variety of financial options to ensure you're able to enjoy the benefits implant dentistry has to offer. We are confident you will love your new dental implants and they will be an investment that lasts a lifetime.
---
Options For You
Anybody missing one or more teeth is an ideal candidate for a dental implant procedure. The best part is that implants require no more care than your natural teeth and cannot get cavities. 
Replacing One Tooth or Several Teeth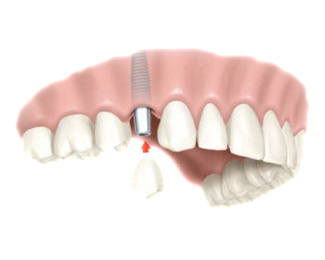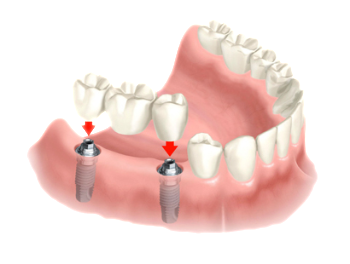 Replacing All Teeth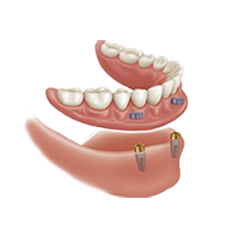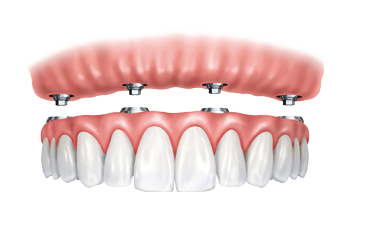 ---
What To Expect
CONSULTATION & PROCEDURE

At the consultation, your oral surgeon will take a 3D scan of your mouth to create a treatment plan for your procedure. If you have enough bone mass in your jawbone, the consultation, extraction of existing tooth, and implant can be done in one, convenient visit.

IMPLANT CHECK

Two to four weeks after the implant is placed, your oral surgeon will want take a look to ensure it is healing correctly.

ORAL SCAN

Three to six months later, your oral surgeon will see you to take a scan of your mouth. The scan is used to create a custom crown that will be perfectly fitted for your mouth.

CROWN SEATING

Three to four weeks later, after the crown is made, you will visit your general dentist so the crown can be placed.

TA-DA!

After your dentist places the crown, your procedure is officially complete and you can enjoy all the benefits of your new dental implant.
---
Recover with Ease
Your procedure is over, now what? Watch as we review everything the nurses covered in your post-op recovery. This video is full of basic recovery instructions and tips to help you achieve a speedy recovery.
---
We're Here to Help
Whether you are in need of replacing one tooth to several or all of your teeth, we have a dental implant solution for you. We are confident you will love your dental implant and with proper care, they will last you a lifetime.
Questions? Give us a call at 402.327.9400 where our specialists are happy to help you with any of your dental implant needs.
Did You Know?
There are many advantages to dental implants, including:
Upgraded Comfort
Easy To Care For
Improved Health
Better Speech
Easier Eating
Boosted Appearance
Higher Self-Esteem
Designed To Last a Lifetime
---
Dental Implant Resources

---
Recovery Resources